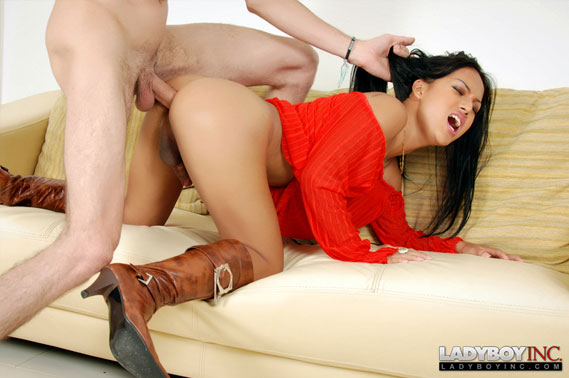 Yea, you read that right. Ladyboy Amy gives up her raw ass to Allen in what is without a doubt her hottest, kinkiest, and downright filthiest scene ever. And it's only at LadyboyInc.com.
Amy really goes over the top in this incredible scene, and the heat is non stop. She does a lot of ass to mouth and takes a serious ass pounding, but what I think is the hottest part is where she blows her load all over the camera lens while getting fucked doggie style, then licks the lens clean. It's incredible. After she blows her load, Allen shoots a few squirts of his jizz on her balls, then drives his cock back inside of her and unloads a deep creampie where it belongs, right up her poop shoot.
I've shot Amy a lot over the years and am comfortable saying this is her best scene. In fact, I'll go a step further and say this is one of the best ladyboy fuck scenes ever shot in Thailand. Seriously.
So if you are an Amy fan, click here to watch the video. Yes, you have to join the site to see it unless you score and find it on a torrent or something, but we'd really, really appreciate the support. Without it, we can't continue shooting hot ladyboys like Amy getting railed in the ass.